Register now for 2018
The Event will be held on April 7th 2018 with the 10K starting at 9:00am and the
5K starting at 9:30am.
Day of registration will start at 8:00am.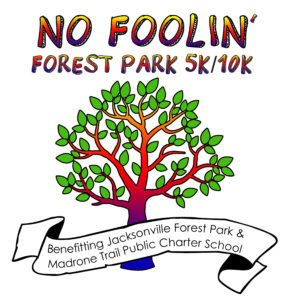 Event Flyer
Directions to the Event
Leaving Jacksonville on Hwy. 238 towards Ruch go about half a mile and turn right on Reservoir Rd. Follow signs to the main parking lot, about a quarter mile past the Rail Trail kiosk.
Race start is at the main Forest Park parking lot, approximately 1 1/2 miles up Reservoir Rd.
Start times
Day of Registration: 8:00am
10K: 9:00am
5K: 9:30am
Course
5K is 90% singletrack and 10% gravel roads in a single loop with 2 singletrack climbs totaling less than 800ft.
10K uses the 5k course but adds a 3rd climb on trail before descending to the finish.
Awards
Age division ribbons for 1st/2nd/3rd. Prizes for 1st overall male/female
Refreshments & hot chocolate available before & after run.
Madrone Trail Public Charter school offering a holistic Waldorf education in a public charter school environment since 2007; teaching the whole child thru their head, heart, and hands with a focus on play, arts, and music.