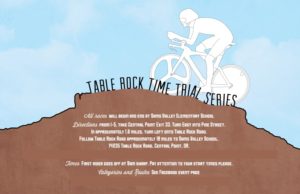 1st Time Trial for 2017 event is scheduled to go off March 4th 2017 at 9:00am.
Register early to get discounts!
Be aware that day of registration will go up in price.
Race 1 March 4th
Race 2 March 11th
Race 3 March 18th
Itinerary
8:00am Registration/Packet Pickup open
8:45am Day of registration closes
9:00am First racer is off and racers will be sent off every minute
Approx 10:30am Team TT will start
Race Info:
Link to Google map for driving directions to the start.
Each of these races will start at 9am with riders going off every minute.
Riders will need to be at the start waiting for their start time 5 minutes before their actual start time.
Start times will be assigned race morning so make sure and check in.
We will be doing a team TT after all single riders have started.
If your riding for a team you need to make sure they know at the registration table so they can slot you in one of the earlier time slots.
Each of the races will get progressively get longer and to be included in the series racers will need to get times in all three races.
There should be plenty of parking available at Sams Valley school.
There will be bathrooms available in the school race day.
This is an OBRA event so OBRA rules apply.
The third race on March 18th will be part of the Oregon TT Cup see schedule below.
3/5 Jack Frost TT
3/18 Table Rock TT
4/29 ROD
5/7 OBRA TTT (double points)
5/20 Coburg TT (Tentative)
6/11 OBRA TT (double points)
7/16 OBRA Uphill TT
8/27 Mt Ashland Hillclimb
Categories & Results:
-Team TT (#1 only)
-Men 1/2/3
-Men 4/5
-Women 1/2/3
-Women 4
-Master 40+
-Master 50+
-Master 60+
-Junior (Under 18)
-Tandem
-Eddie
This will be an RFID chip timed event so riders will need to make sure and get their RFID bracelets and return them after the race.
Results will be available after all riders have completed the course.
Past Results:
2016 Race 1, 2, 3
ROUTES:
Southern Oregon TT Race 1 (8.2 mi) March 4th 2017 GPS map PDF
Southern Oregon TT Race 2 (12.7 mi) March 11th 2017 GPS Map PDF
Southern Oregon TT Race 3 (19.5 mi) March 18th 2017 GPS map PDF
To be a volunteer please contact us.